Tips & Tricks for Utilizing the PMP Van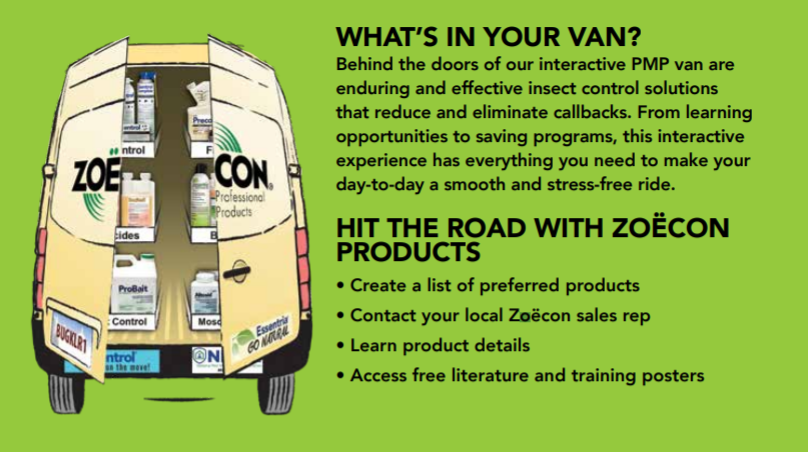 Ever wish there was one spot where you could go to find all the pest management professional (PMP) resources you need?
At Zoёcon, we've developed the PMP Van specifically to help professionals like you discover insect control solutions formulated to reduce and eliminate callbacks and utilize insect fact posters to hand out to clients.
Let's take a look at some tips and tricks that will help you go the distance with the PMP Van:
Access Zoёcon's collection of videos on YouTube to walk through product demonstrations from sales team representatives, watch in depth product videos that will prepare you to answer customer questions, and even learn more about Zoёcon's signature insect growth regulator (IGR) technology: Take a Stop at Zoёcon
Download (or request) our FREE Insect Posters! There's a lot to learn about the insects we work to control, even for professionals like you. Each poster covers everything from different insect subspecies and pest life cycles to common infestation areas and treatment options so professionals can easily share information while offering the best treatment advice to their customers. Request Your Posters Here
Winter months can mean more time in the house and less outdoor calls from customers. Use this downtime to read up on our extensive product literature and sharpen your expertise. Our in-depth product family brochures cover everything from insects controlled to application sites and more. Learn more about Zoёcon product offerings
When you open the doors of the PMP Van, Zoёcon's effective, easy-to-use products are grouped by insects, front and center. We've got you covered for roach control, flea control, fire ant control, mosquito control, fly control, and more! We even have selections for premise control, botanicals and insecticides. If you need it, we've got it! Explore our product families
Our PMP Van also informs visitors of beta testing programs, rebates, and other limited time offers for pest management professionals like you. Check the clipboard inside the van to learn more.
The PMP Van is designed to be a one-stop shop for everything you need. But don't take our word for it! Open the doors and see what all the buzz is about: https://www.zoecon.com/pmpvan