When it comes to controlling disease-carrying flies in restaurants, food-handling establishments, warehouses or other sensitive sites, there are a variety of options on the market - but how do you know which method and which products will work best?
At Zoëcon Professional Products, our solutions are designed to meet the challenges presented by various types of infestations, and our experts are on hand to help you determine which solutions will best help you solve tough problems and eliminate callbacks.
Let's take a look at a few basic fly control methods, along with pros and cons for each when applied to a restaurant or food-handling setting.
Fly Traps, Sticky Traps, or Fly Paper Strips
This is a simple and inexpensive method that also has the added bonus of being non-toxic to humans and pets. They're useful for catching flies in specific areas and for small spaces with low fly populations. However, they may not be enough for large infestations in large areas.
Repellents (25b)
When compared to insecticides, some repellents can be viewed as natural and environmentally friendly. Although they may have a pleasant smell and many are considered safe for human use when used as directed, effectiveness may be limited - especially when dealing with multiple fly species or changing weather conditions
Insecticides
When applied correctly by a pest management professional, insecticides are the quickest and most efficient way to handle a fly problem. Available in various formats such as sprays and baits, insecticides are your best bet for a severe infestation.
---
Innovative Solution Spotlight
The most important aspect of fly control in restaurants and other food-handling establishments is cleanliness and proper maintenance of the facility. When picking out product solutions for restaurant fly control, we recommend selecting products that don't use strong-smelling attractants, which might be unpleasant for restaurant customers. Here are just a few of the innovative product solutions we offer for fly control:
Take control of house fly infestations with this flexible, water-dilutable product. Offering both spray and paint-on applications, Musca-Cide® Fly Bait Spray allows pest management professionals a flexible way to kill house flies with its fast-acting formulation.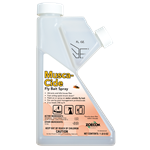 Water-dilutable formulation
Flexible application options
One bottle provides 1,500 sq. ft. of coverage
Bottle features convenient built-in measuring
Fast-acting to provide quick knockdown
With the ability to trap more than three times the amount of flies than traditional sticky fly traps because of its large trapping surface and compact design, the Starbar® EZ Trap® Fly Trap is a mess-free and odor-free fly control solution.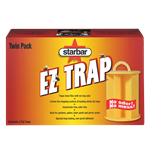 Disposable fly trap captures more flies with no trap odor
Hang with built-in hanger or place where flies congregate
Ideal for gardens, patios, backyards and picnic areas
100% insecticide free
Drawing flies away from food sources, the Starbar® Captivator® Fly Trap locks flies in with its one-way entry. The heavy-duty plastic jug's design makes it a durable and reusable fly control solution and an economical choice.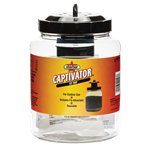 Reusable fly trap
Durable plastic jug
Easy-to-use fly trap
Capturing over 35,000 flies, the Starbar® Fly Terminator® Pro Fly Trap is a durable and effective fly control solution. This fly trap has an easy-to-hang, sturdy handle and a no-rust plastic top, making it reusable.
Year-round durability
Controls flies
Reusable fly trap
---
For more insight on controlling fly problems in restaurants, try our solution finder tool or speak with one of our technical services representatives. We're always here to help, and we're always here to connect.